Yes, I'm back.
AAAttackers is off hiatus. And so, here is a brand new comic...
If they went on a fishing trip...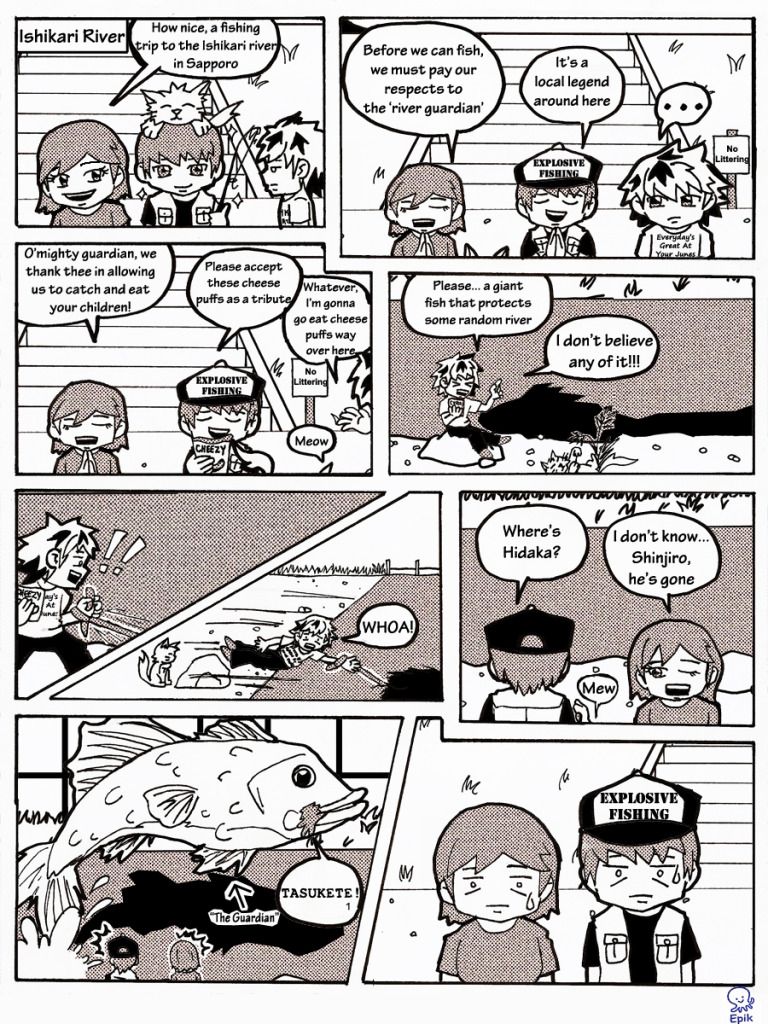 Click the image to enlarge
1.Tasukete!-
help me!
The three of them decided on going fishing for the summer. So they went to Sapporo, Hokkaido. They had originally invited Shuta since he's such a master angler (as if being an ace on ice skates wasn't enough). However, Shuta declined because he was busy. Instead, he recommended that they fish along the Ishikari river and he even informed them about the "Guardian's" legend. Chiaki, Shinjiro, and Hidaka are very excited about their fishing trip. They geared up and even respected the tale of the "Guardian," well... most of them. Forget the hunting dog, Shinjiro's got Byakko who is also awesome at fishing. Notice in the fifth panel, Byakko is waving bye while Hidaka is being yanked into the water. What an adventurous trip, haha! Oh, don't worry, they saved Hidaka eventually. But the looks on their faces when seeing the guardian, priceless.
This comic was inspired by my own fishing trip, although I only caught one tiny trout. And the fish tale was taken from the Persona 4 anime (ep14) when Narukami encounters the "Guardian" for the first time. I really wanted to capture that that moment in my comic. I had the same expression when I saw the "Guardian" in the anime too.

This is the original scene from Persona 4:
SMT: Persona 4 belongs to Atlus(c)